Suzanne Sparrow Plymouth Language School was founded in 1978 by Suzanne Sparrow to provide a friendly, welcoming environment for students to practice and improve their English language skills. These criteria still exist today and your educational needs and welfare are of prime importance.
Our school is situated in a four-storey post Regency building close to the university, city centre and railway station.
We have strong links with Plymouth University whose campus is directly opposite the school in a popular residential area of the city. We have helped many students studying with us to continue onto Higher Education at the university.
The background of Suzanne Sparrow Hon D.Ed.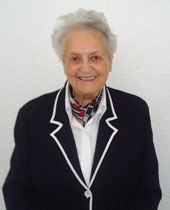 I was born in Plymouth and attended Plymouth High School.
My home was blitzed in 1941. The following year I joined The Royal Navy, at age 17, and trained as a sea-going WREN. At 19 I was a Coxswain in charge of a crew, before being released from service at the end of World War II.
I then trained as a secretary and worked in various jobs including Personal Assistant to the Managing Director of a jewellery company in Plymouth and then as a secretary at the Marine Research Laboratory at Newton Ferrers.
During my time at the laboratory I met many visitors from overseas, some of whom had limited spoken English. At home we also had young overseas students staying with the family to help improve their English and it was through this I realised that Plymouth did not have a professional language school.
The Suzanne Sparrow Plymouth Language School has now been running successfully for over 40 years. In recognition of this, I was awarded an Honorary Doctorate of Education by the University of Plymouth. We offer a truly professional establishment with good homestay providers who give stability to the operation and helpful staff who care for people and aid their ability to learn and improve their language skills.
Plymouth has a wonderful environment with remarkable scenery, clean air and a superb friendly atmosphere towards overseas students. We have many returning students and a large proportion of students come through word of mouth – it's a great city and superb place to learn.
Learn English at the Suzanne Sparrow Plymouth Language School