The British Council
Our school is accredited by the British Council, which with their partner, English UK, runs a quality assurance scheme for UK providers of courses in English.
We are inspected regularly to ensure we reach quality standards in teaching, management, resources, environment, welfare and care of under 18s.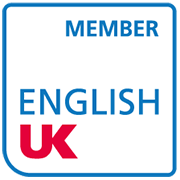 English UK
English UK administer Accreditation UK and as a member of English UK, we are obliged to provide a high quality service to students.
Study with Suzanne Sparrow Plymouth Language School